Bathrooms
Installing A Bathroom Sink
A re you just about ready to update your bathroom with a new sink? If so, you will definitely want to make sure that you have a step-by-step guide to installing your sink. Installing a sink without the proper tools and instruction can lead to costly repairs and damage. In this guide, we will show you exactly how to install your new sink.
You will need to make sure that you have all of the hardware necessary to install the sink. This may include valves, stub outs, tubing, and fittings. You may also need new or additional pipes depending upon if this is a new install or a replacement of an old sink.
Next, you may need to cut some copper piping, this will allow for the valves. Place the basin in the area you have cut for the sink and then it is then time to put the faucet together. Do so as instructed by the manufacturer. You will then want to make sure that the sink water is flowing as desired and then caulk around the edges to ensure a secure fit.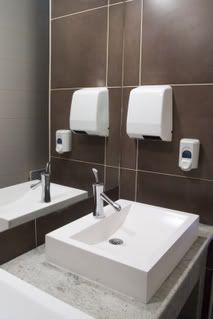 However, if you are replacing an exciting faucet, your steps will be a little different. If you want to avoid having to replace all the plumbing and other fixtures, you will need to make sure that you get a new sink that will fit not only through the hole in the vanity, but also fits in with the posts as well. You will want to make sure that shut off the water before you begin, otherwise a mess could ensue. Use the shut off valves to do so, make sure you do this for both the cold and hot water supply.
Now you can take the water lines off, which are located between the valves and the old faucet. You want to replace the arm, nuts, washers, and remove the old faucet, and then finally remove the old sink. Replace with the new sink and reinstall in a backwards step.
Whether you are replacing your old sink or creating a complete new look for your bathroom, knowing how to properly install a sink can mean the difference from an easy job or a complicated, expensive one. Some materials and tools that you might need include pipe cutters, measuring tape, basin wrench, fittings, nuts, washers, and copper pipe.
Related Articles